I debated whether to lock this post and make it friends only, but in the end I decided to leave it unlocked, as I know the EDS newsletter can only link to open and public blogs, and perhaps other newly diagnosed people are kinda going through the same things I am.





Denial

Anger

Bargaining

Depression

Acceptance



The five stages of grief as laid out by Elisabeth Kübler-Ross, although mostly dealing with death (and somewhat discredited by some schools of thought these days) have also been used in other cases, including dealing with life-changing events, such as being diagnosed with a disabling condition.

As some of you already know, I have Ehlers Danlos Syndrome hypermobility type. I was diagnosed in January of this year after a lifetime of health issues, including but not limited to ME/CFS, IBS and also dizziness, palpitations and tachycardia that I now know is being caused by Autonomic Dysfunction. This diagnosis has answered so many questions that I've had about my own health and my own body, and I finally feel vindicated in fighting on for an answer and not to be dismissed by the medical profession. Because of that, I was absolutely thrilled to get the diagnosis. I wasn't crazy, I wasn't a hypochondriac, my pains weren't psychosomatic. This was real, and I was so grateful for that.

And yet... as the reality of this sinks in, I'm finding myself going through all sorts of emotions. Not even just day by day, sometimes hour by hour. This condition is for life. Shit.

Even with ME/CFS, and having that for 19 years, I still believed that one day I would get better. I had hope. Plans for life were simply on hold. But now... I don't know. I might stay the same as I am now, I might get a lot worse. I'm waiting to see a cardiologist to check my heart out, waiting on a neurologist to see exactly what's wrong with my central nervous system. I might get osteoarthritis or even osteoporosis. There are so many unknowns.

Thinking about this took me into denial (albeit briefly). Perhaps the doctor had misdiagnosed me. Perhaps the top specialist in Ehlers Danlos Syndrome in the UK had made a mistake. It was when my hip subluxed badly on Thursday evening and didn't go back in until late Friday night that I decided to rethink this theory. Yeah, denial passed pretty quickly.

My sister had a baby boy on Monday. This was joyous news indeed, I couldn't have been happier. However it served as a stark reminder of my deterioration. When her other little boy was born 5 years ago I spent the morning at her house helping to sort out the nursery, then I spent the rest of the day at the hospital waiting for her to give birth, not getting home until late that night. This time I waited at home until I heard she'd had the baby and then went to see them at visiting time for an hour in my wheelchair. I held the baby for ten minutes and my arms were screaming in pain, even though he's a tiny little dote.

After this, I moved into anger. And that's pretty much where I still am. Yes, simultaneously I'm still grateful for all the wonderful things I have in my life, like my family and my beautiful husband - without whom I would be a gibbering wreck, that I have a roof over my head and that this diagnosis has actually for the first time in my life helped me to find a support system in the way of occupational therapists etc. But I still want to know why this is happening to me. Why was I born messed up like this? It's in my genes, so of course I know why. I just want to know why. And then I feel guilty for feeling like this when there's so many other people suffering in the world, which just makes me angry with myself.

I'm angry that when my mum took me repeatedly to my Doctor from the age of seven or eight onwards with terrible pains in my joints he simply dismissed them as growing pains without even bothering to examine me.

I'm angry that after I was diagnosed with ME/CFS (which I probably have because of the EDS) I was totally left by the wayside with no professional support.

I'm angry that I went back time and time again to the Doctor at the surgery I'm at now and said that I didn't think the pain I was in could be attributed to ME/CFS, and I was told that it could only be that as all my blood tests came back clear, and I quote "If I send you to a rheumatologist they're just going to ask what you're doing there as you have no arthritis markers in your blood."

I'm angry that it took a chance conversation between my brother-in-law and a Doctor before the condition 'Ehlers Danlos Syndrome' was ever proposed, even though I saw a neurologist in 2007 who mentioned I was hypermobile but either didn't know or never thought to tell me that this can lead to problems. I'm angry that I had to do my own research to take to my Doctor (a different one at the surgery) and had to tell him that I needed a referral to the rheumatologist when he had no idea what to do with me. I'm also angry that this rheumatologist missed so many things that Professor Grahame caught to give me the EDS and autonomic dysfunction diagnosis.

I'm angry that it took this new diagnosis AT AGED THIRTY before I actually got some help and got recognised as needing support. I wonder if this is because ME/CFS has got quite well known now and is kind of accepted as 'oh there's nothing we can do for that', whereas a lot of Doctors still don't seem to know much about EDS and are willing to try things with it.

I'm angry that my fingers hurt so much that it's taking me three days with breaks to write this post, and that I've had to give up writing fiction for now. I'm angry that I don't get to muck about online as much as I used to, and my main thing these days is Farmville on Facebook because it's easier on my hands (I had to give up Bejewelled Blitz as the speed of the mouse clicking was killing me).

And I'm not so much angry about this next thing, more sad. Defriending. As I said in a previous post, I completely get it. I understand. Why have someone cluttering your flist who is never around? But it doesn't mean it doesn't hurt to see those notifications pop up on my email "xxxxx has removed you from their friends list" Especially when it's those people who I kind of thought would be there no matter what, you know? And I'm not trying to lay a guilt trip on anyone, or demanding to be refriended, I'm just being honest about how I'm feeling. I'm trying to lay everything down right now in an attempt to help me move on.

Thing is though... I think it's OK to feel sad and to feel angry.... right now. I know I've got to work through this, I can't wallow in self-pity forever, I need to move on. But I've got to let myself experience the anger first in order to truly do that. I'm not throwing a pity party here in order to try and get comments from you guys (although all are welcome) I'm just using my journal as.... catharsis, I guess.

So... bring on the bargaining.

And now, to brighten things up, some photos!



Fingers. Everybody's got them and we shouldn't be ashamed of them:


I always wondered why people complained about that itch on their back that they just couldn't reach: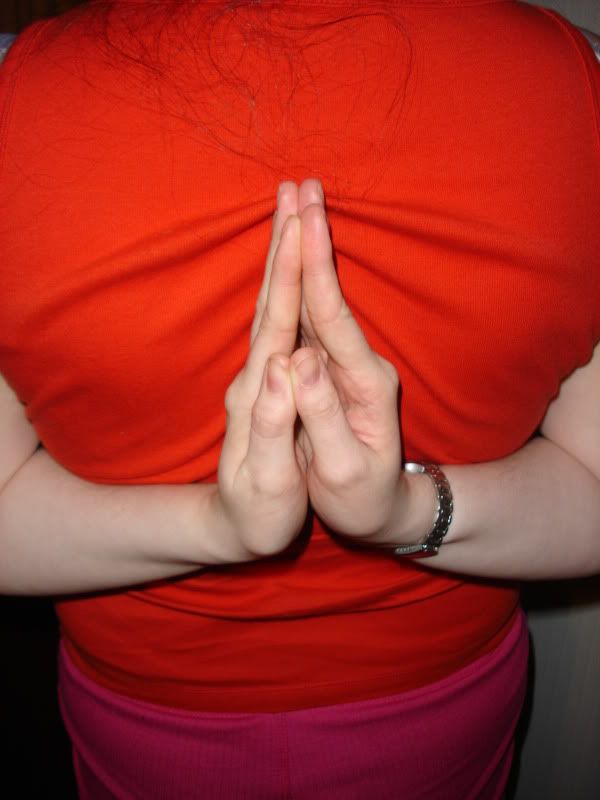 What do you mean "that's not normal!"?