Time again for Vortex, the Dr Who convention in Belfast. Last year I was just a wide-eyed attendee. This year,I was staff =)



Had such a great time at Vortex again this year, absolutely awesome! It actually started on Saturday for me, we had to go up to the Europa hotel in the afternoon to start prepping, we had to build the TARDIS and give her a fresh coat of paint, build the stage set, build the backdrop at the other side of the room and sort out whatever other bits and bobs needed doing. Of course I wasn't doing any of the heavy lifting and stuff, but was helping out with the lighter stuff and painting. Jonathan Woodward (Buffy/Angel/Firefly) who was MC for the event, and Lachlan Nieboer (Gray - Captain Jack's brother - Torchwood) came in to say hi. Lachlan... oh my ACTUAL good God, is absolutely gorgeous in real life. *drool* He was standing next to me as I was just finished touching up the windows on the TARDIS and he stuck out his hand for me to shake and was like "Hi, I'm Lachlan." Yeah, like I don't know that!!!! As I was introducing myself and shaking his hand he was just looking right into my eyes, like proper eye contact and my insides became goo immediately. Jonathan is hilarious, he's like a hyperactive child on too much Sunny D, even at 12 o'clock at night. Him and Lachlan went and did a pizza run which was just such a sweet thing to do.

We got that finished at about 12:40am, so I managed to get about 3 hours sleep before I had to get up on Sunday morning to go do it all for real.

My precious laminate!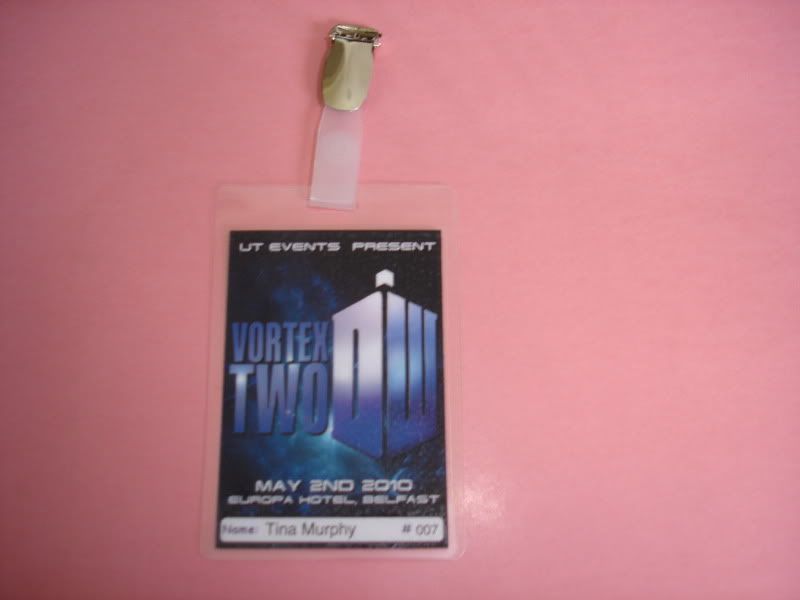 Managed to get a few pics of the props and stuff before the doors opened and I had to 'work'.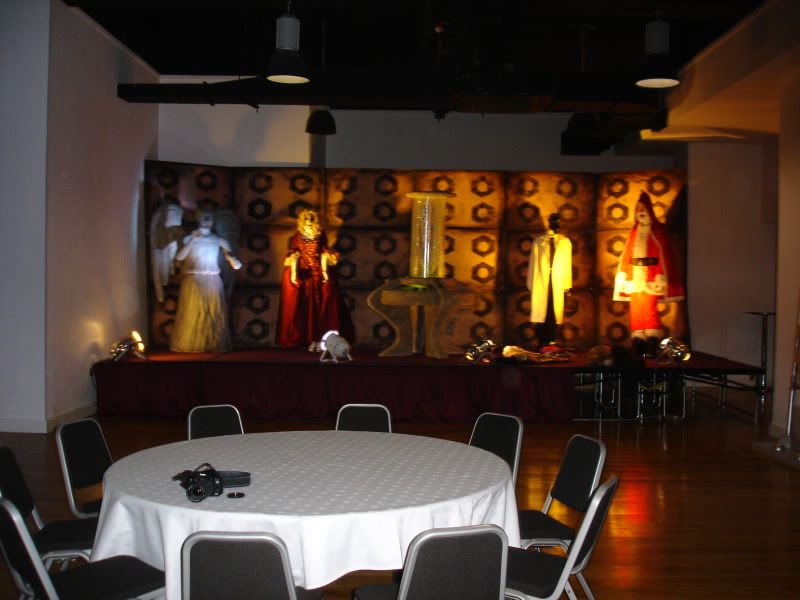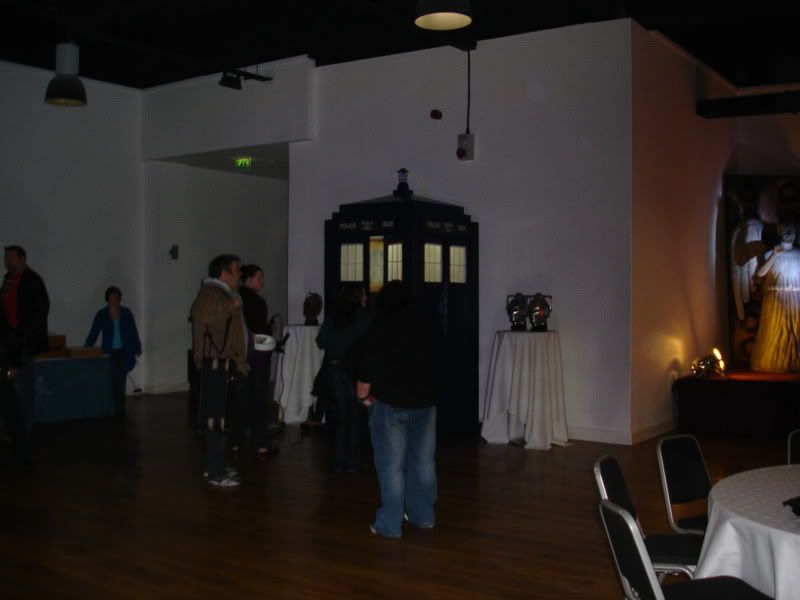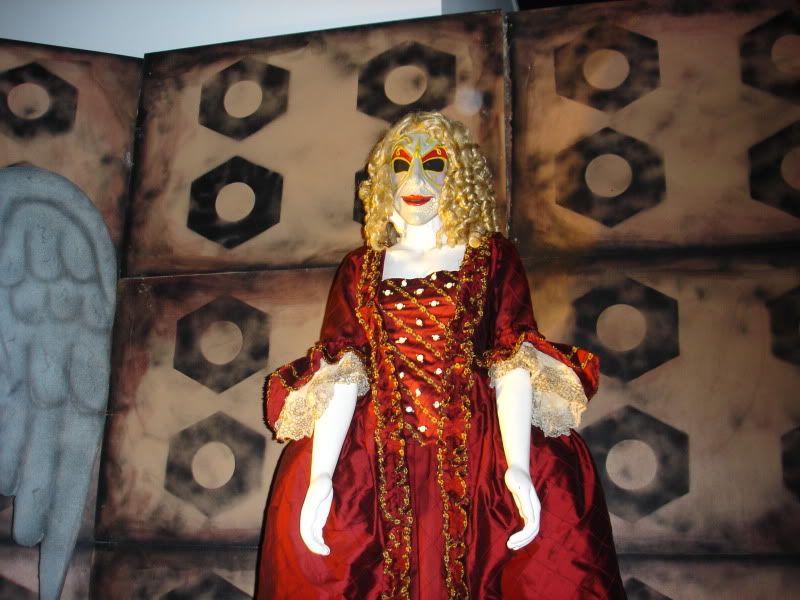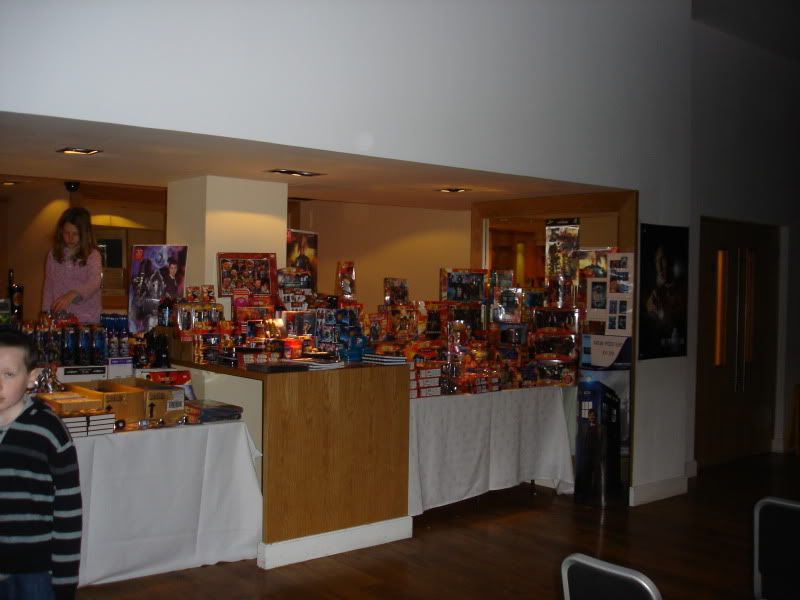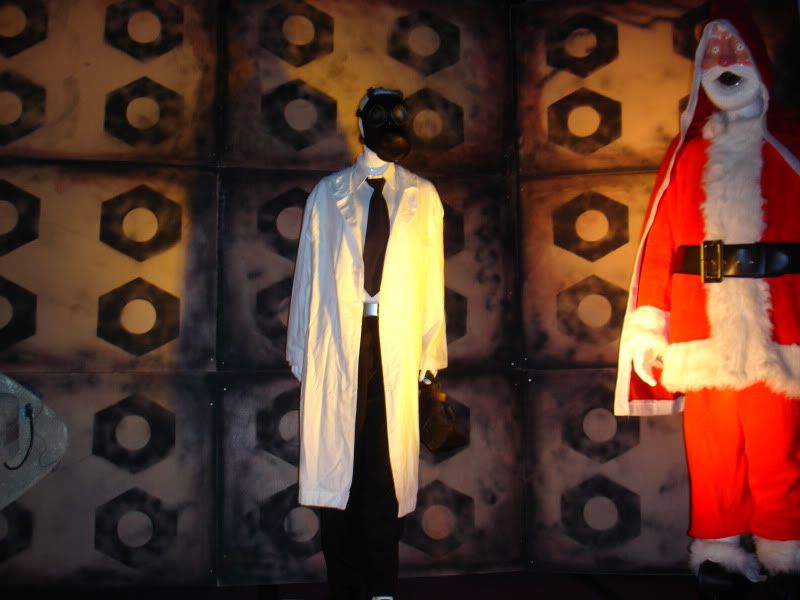 Robot Santa! I dressed this guy! All Denis (the organiser) would tell me was to be extra careful with the suit as it was very special and very expensive. It also smelled like cinnamon..... could it have been the real deal?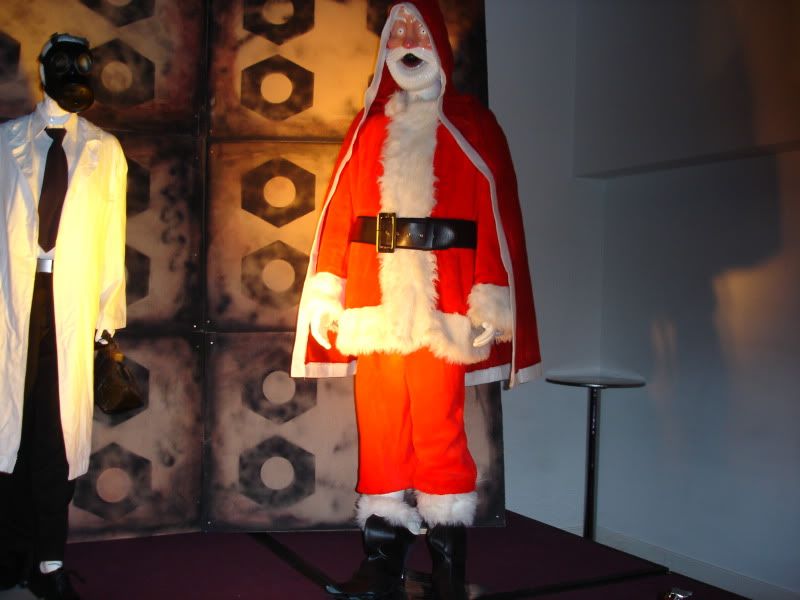 DON'T BLINK!




Look at my beautiful windows! I'm so proud of those windows!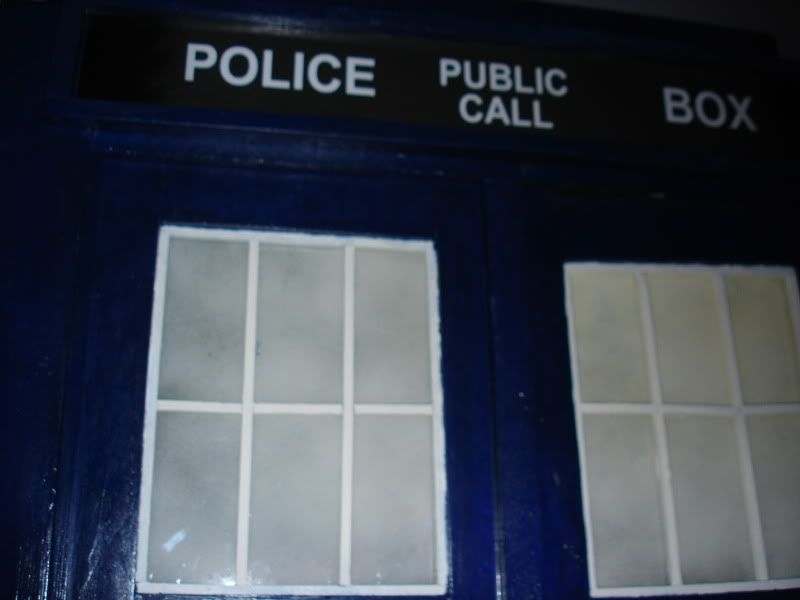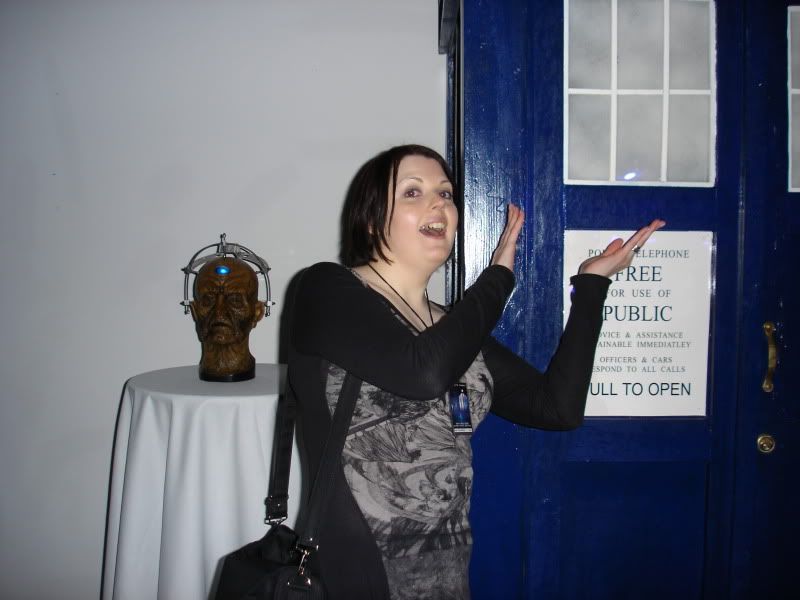 *lol*

I was working the pre-registration ticket desk, so anyone who had already bought their tickets gave them to me, I scanned them and then the Dalek in the corner welcomed them. A few of them actually had the names programmed in. When I scanned my own ticket, it said "Tina, you would make a good Davros" I bet that was Denis' doing!

I was working the ticket desk for most of the day, I was also there then to answer any questions people might have about the schedule, where things were etc. It was an absolute blast. I was relieved to go and watch the first guest talk, which was Rakie Ayola (The Hostess in Midnight) and Jonathan Woodward. It was really funny. I snapped a couple of quick pics but couldn't get any really good ones because I couldn't use flash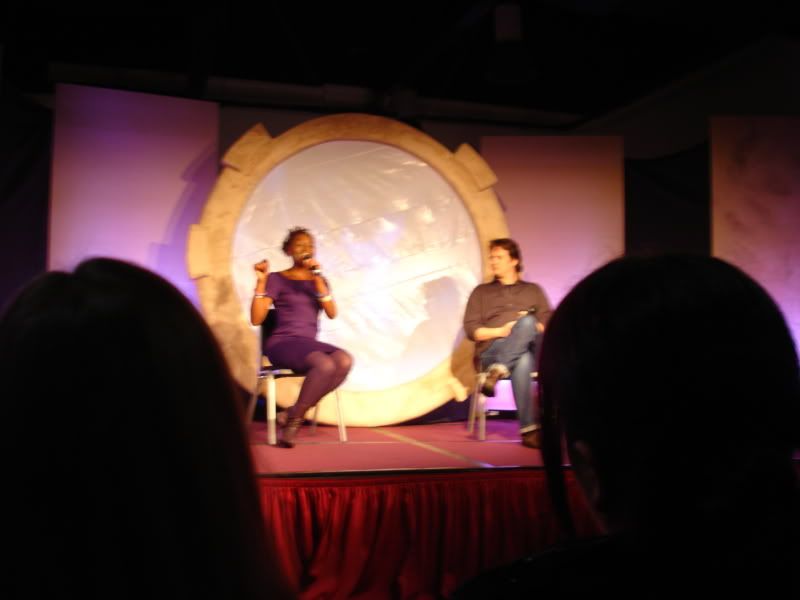 Then I had to back to work, so I couldn't sit and watch Kai Owen (Rhys in Torchwood) and Lachlan's guest talk, but I could see it on the big screen from where I was working at the back of the hall - as long as I wasn't elbow deep in tickets of course, had had to switch to manually checking people in by that point, no more nifty scanner! However I did get up to ask Kai a question about did he have any idea that Rhys would turn from just lovable boyfriend into action hero (Lachlan found my use of the term 'action hero' hilarious) and he answered it very much in-depth, mentioning how when he'd first started playing Rhys he was brought in for a few episodes, and so didn't know Rhys had a future at all at that point, but he loved that he could now show the caring husband side and the kick ass side as well, but he thinks the kick ass side had come out because he's the caring husband and he wants to help protect Gwen.

So once he'd finished his answer, I stayed at the microphone and said that a little birdie had told me something about him and perhaps he could confirm if it was true? He looked slightly concerned for a moment, lol, until I asked him if he was a fan of a certain baby shaped jelly sweet, and he was all like "Jelly babies? I love Jelly babies!" I produced a packet that I had been hiding behind my back, his wee eyes lit up and he lept off the stage and ran down to me and gave me a huge hug and a kiss and thanked me. *big grin*

Later, I could see on the big screen that he and Lachlan were throwing them at eachother and trying to get them into eachother's mouths, and then during the talk Kai kept going back to his chair to get another one!

So we had the photo shoot next, Kai was up first and when I came up he grinned and said "it's my jelly baby girl!" *love* Then I had Jonathan and Lachlan after that, then it was time for the group shot. In the first one Jonanthan was pulling a strange face so the other guys said "you can't use that, we have to have another one!" In the next one Jonathan was posing perfectly but we were all making gestures at him, so we had to go for a third, which was the keeper. Although my friend Danielle and her dad were doing the photos, so Danielle says she'll email me the 'outtakes' as well.

Kai - note the dedication!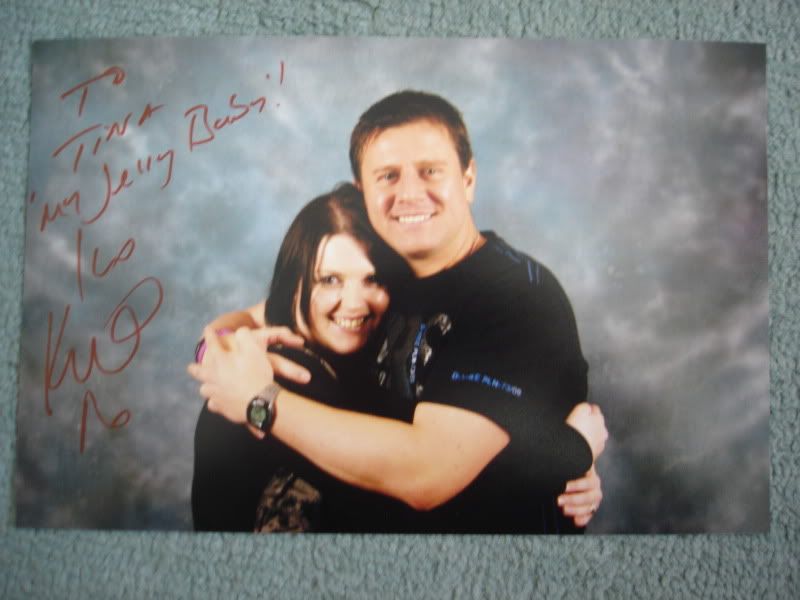 Jonathan - when he was signing this he told me I was so cute and he kept going (in a kind of baby voice) "just look at that smile!" *lol*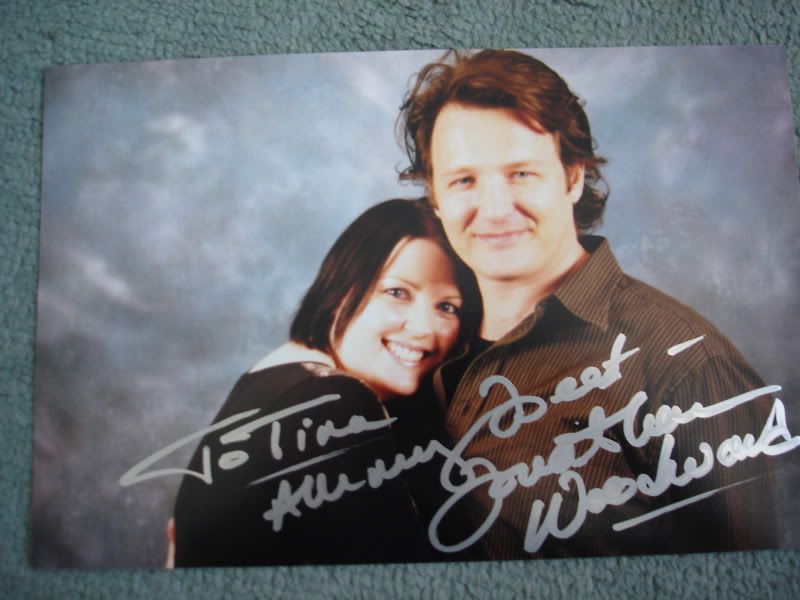 Lachlan - we look so amused because he'd come running to get in the picture and tackled me in a bear hug at the same time and we'd both almost gone flying into the backdrop. I STILL can't work out what the dedication says! Have a wonderful......?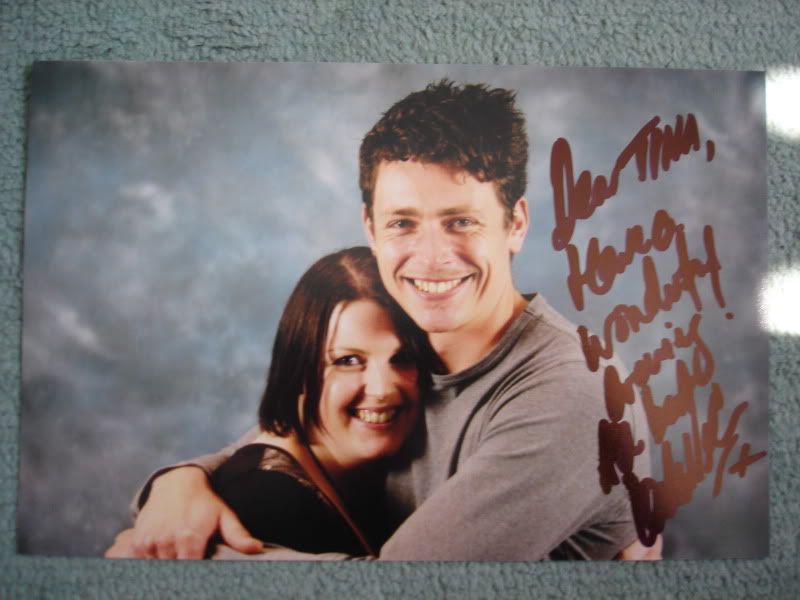 Quick lunch break then we had coffee club, which was only for selected ticket holders. We sat at tables with our coffee/tea and biscuits and each guest came and spoke to us for 10 minutes. Me and another girl Remli worked tactically together and managed to secure the empty seat between us, so the guests had to sit there, mwahahah.

Rakie came to us first. I wasn't really sure what we were going to talk about, other than Midnight I didn't know her from anything, but she was great in the guest talk so I thought it was going to be fun. She was brilliant, really lively and up for talking about anything, she told us all about how they did the talking in sync in Midnight (not as easy as it looked!) and shopping (she's addicted to purple and I was wearing purple tights and she told me she kept seeing me because her eyes were always drawn to my tights, lol. Had lots of fun with her.

Jonathan was next with us, when he heard I was from a place called Blackscull he found that very amusing and spent the next while going "by the power of Blackscull!" I told him it was slightly more evil than Greyskull. He thought it was just slightly further away and so more in shadow.

Lachlan next, we chatted about bits and bobs, had a good laugh but just before time was up I managed to get a chance to ask him about the short film he was in, Heartland. Now, I absolutely love this film, and it was this I wanted to talk to him about MORE than Torchwood. I think he was surprised to find that someone had actually watched it, but I told him all the bits I loved, and how certain scenes had moved me, and how I felt the story moved more in the silences than in the dialogue (which is what I think they were aiming for) and dear love him, he just seemed SO touched. He kept thanking me, and he was doing that 'looking deep into my eyes' thing again, and as he was sitting RIGHT THERE, right next to me, it was so very intense. GOO. I just kept saying "I'm just being honest, telling you what I think" and he went on to say that he sometimes gets stick for it because he plays a gay character in it, but to him a part is a part and he wants to tell the story and that's what's important to him. I told him a couple more things I loved about it and how I thought he had really inhabited the role and he started up again with the really intense thank yous, and by this point I was just *blush* and *in love*

Finally we had Kai, who again called me his jelly baby girl, squee! There was a bit of tomfoolery between him and Lachlan at our table, but we finally settled down and got chatting. He is looking SO good. He's lost a good bit of weight, must be because of his marathon training. The guy called time in what seemed like 5 minutes (we're supposed to get 10) and Kai was like 'Fuck that, I haven't had any time here yet, I'm not moving!" So we got another 7/8 minutes or so, go Kai!

I had to go back to the reg desk after that, so I was like the last person to get my autographs, I got my photo ops signed, and Jonathan also signed a photo of himself for me because I let him touch my boobs for it. Haha! Not really, what happened was that he was signing my photo op and he put his hand out to grab my laminate which was hanging off the V-neck of my dress to get my name and then, horrified, he goes "argh, I wasn't trying to grope your breast, I swear!" I laughed and replied, "it's alright, you can if you want to", kind of cheeky just, not in a slutty way or anything. So he was putting his hand out and then snatching it away and going "no, I can't!" and doing that over and over, so I joked "why don't you just close your eyes and put your hands out and I'll lean into them!" So we kind of jokingly acted that out, and poor Lachlan who was at the next table, his eyes were like saucers watching it. You kind of had to be there, but it was well funny. But after all that I had forgotten to get my 10x8 photo which I was entitled to as I'd got my photo op signed. So he got me a 10x8 out later and signed it for me.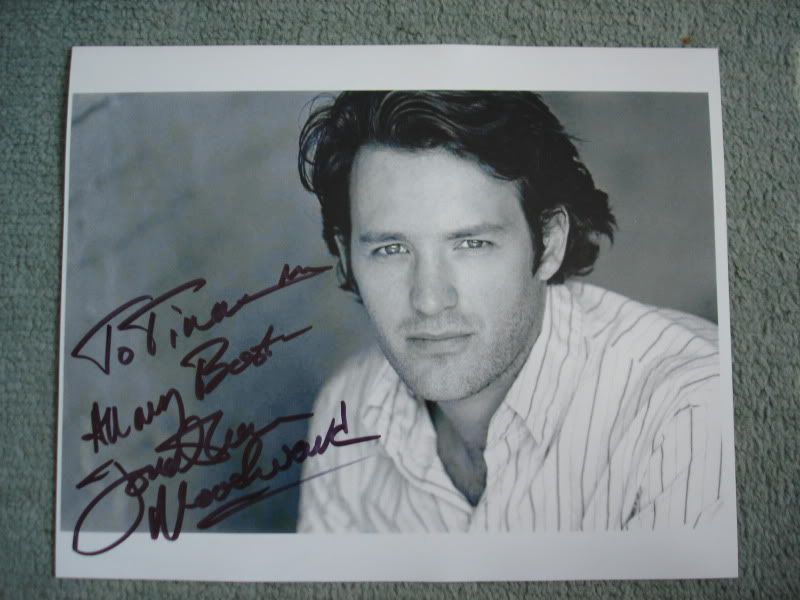 I went to Lachlan's table next and reassured him that he didn't have to grope me in any way! So he was signing my photo and he said, "So, are you going to be around later?" Then after a couple of seconds he kind of went *OMG, blush* "I really didn't mean that to come out how it sounded!" I told him I was around to the bitter end because I was staff. Unfortunately I didn't see him again though. He was yummy. *sigh*

And finally Kai, he had actually left his table already, so I was standing waiting for him for a few minutes, so when he got back he signed the photo op AND he signed the 10x8 as well!! I thought that was so sweet of him.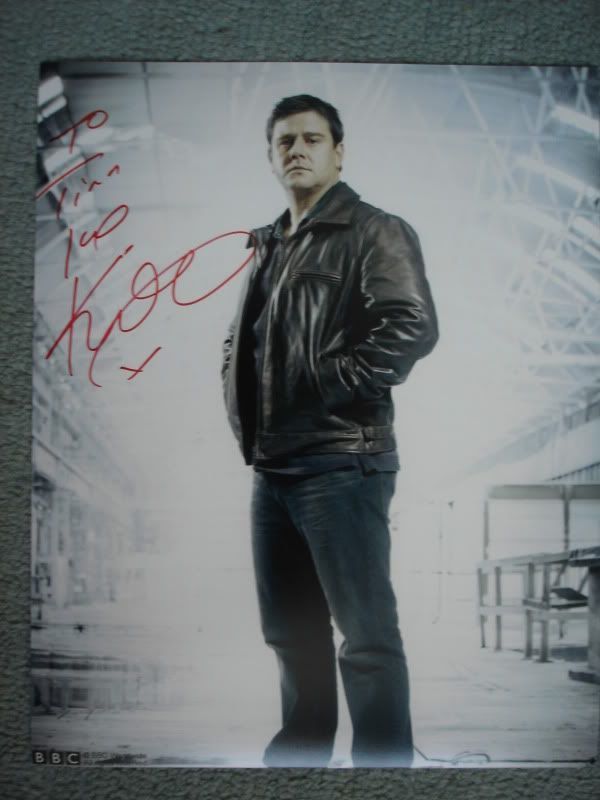 Kai and Lachlan had to leave as they had work to get back for, Rakie stayed to judge the fancy dress party but then she had to go too, but Jonathan hung around for the party, played 'Feel or no feel' and even did another pizza run for the staff. He's bonkers mental, but he's a lovely lovely guy.



So all in all it was a brilliant day, and it all seemed to look pretty smooth, despite the bumps and hitches going on behind the scenes!

So today I'm going to stay in bed and not do ANYTHING. =)