As most of my flist already know, the AEGON Championships at Queen's Club, London, were held over the weekend. We had tickets for the semi-finals and the finals, and although Nadal had sadly pulled out due to a knee injury, I was still looking forward to seeing tennis live and in the flesh.



With Nadal gone, my allegiances fell to Andy Murray (although as the local boy I probably should have been supporting him regardless, but I don't go for all that 'following someone simply for the country they're from' stuff)

FRIDAY

Our flight left Belfast at 7:40am, so we were landing at Heathrow just before 9am. A quick journey on the connect and another on the tube brought us to Embankment, which was only a five minute walk away from the hotel we'd booked, The Club Quarters Trafalgar Square. Trafalgar Square was literally two minutes in the other direction, we couldn't have been better situated.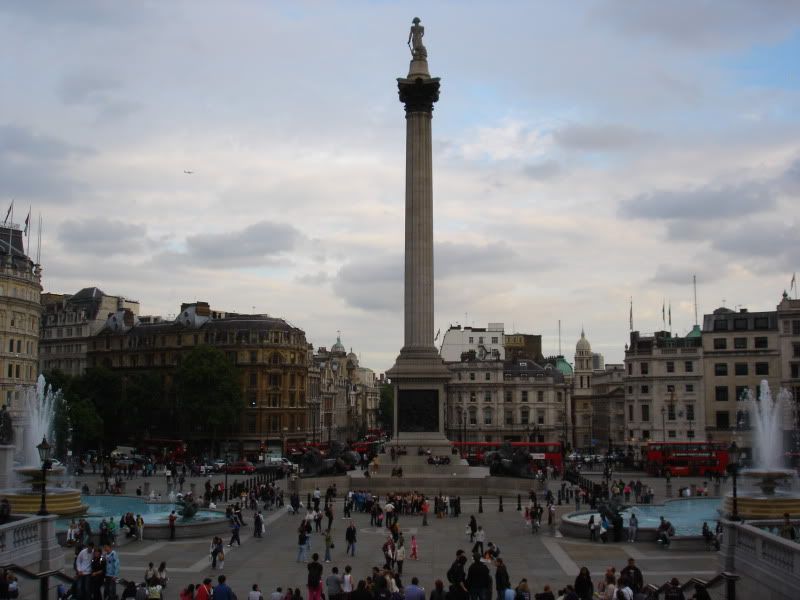 Even though check-in wasn't officially until 3pm and we'd arrived before 11am, they checked us in with no problems. Our room was lovely and spacious and clean, with a super-comfortable bed.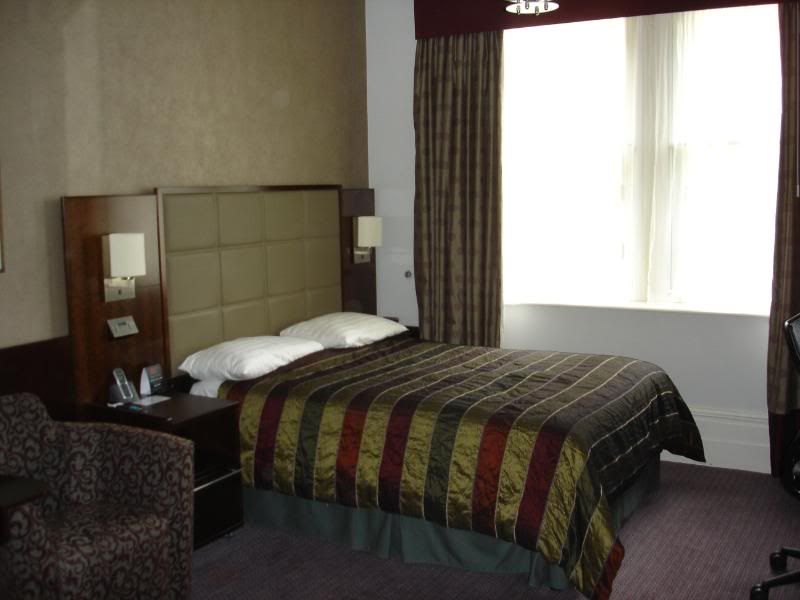 (This was taken just before we left... yes, I always make sure the bed is made before we leave a hotel, even though the maid is only going to strip it anyway... I can't bear to leave it messy)

We spent Friday checking out the shops, Buckingham Palace, Big Ben, Houses of Parliament etc.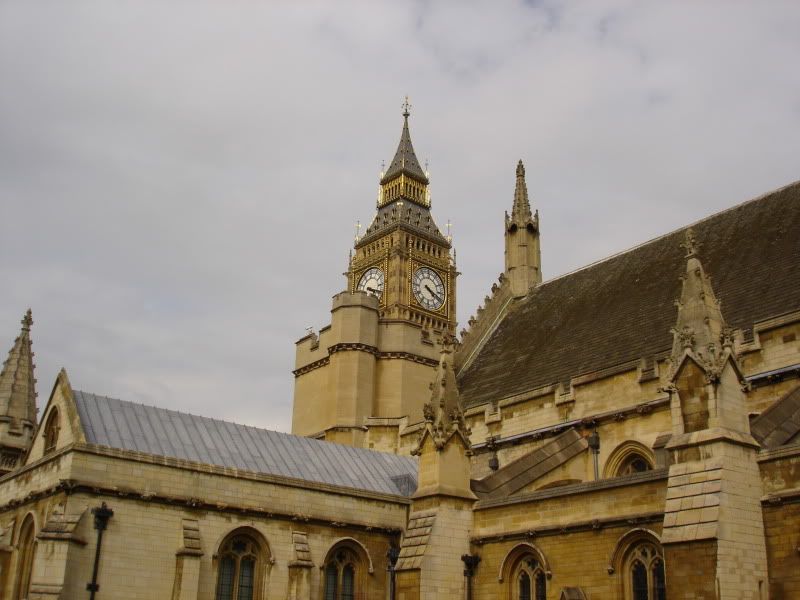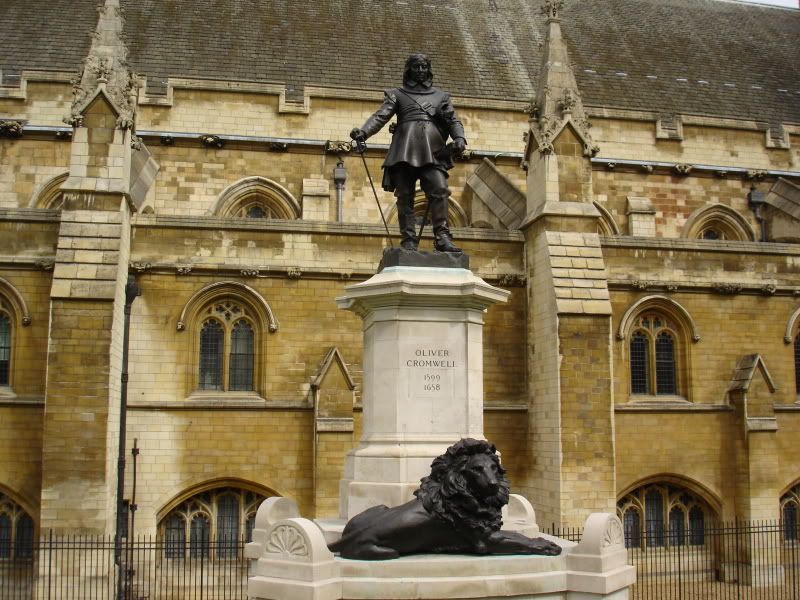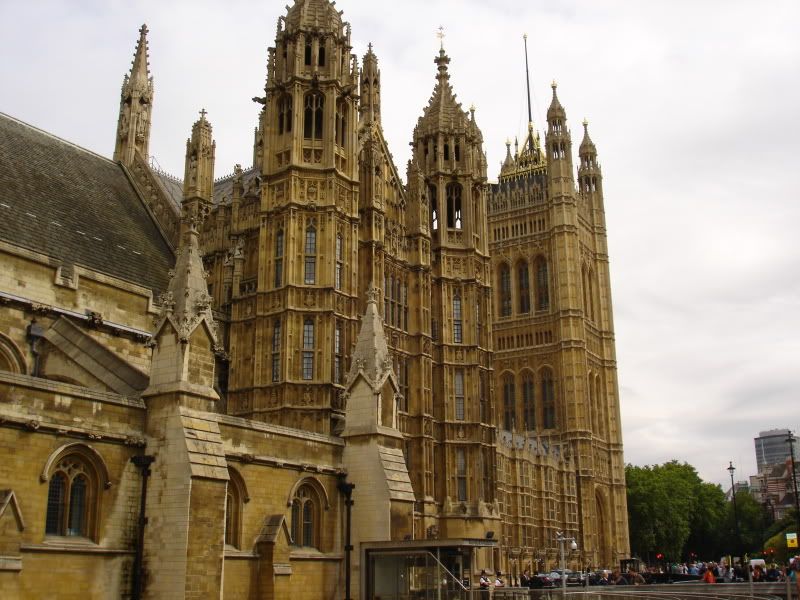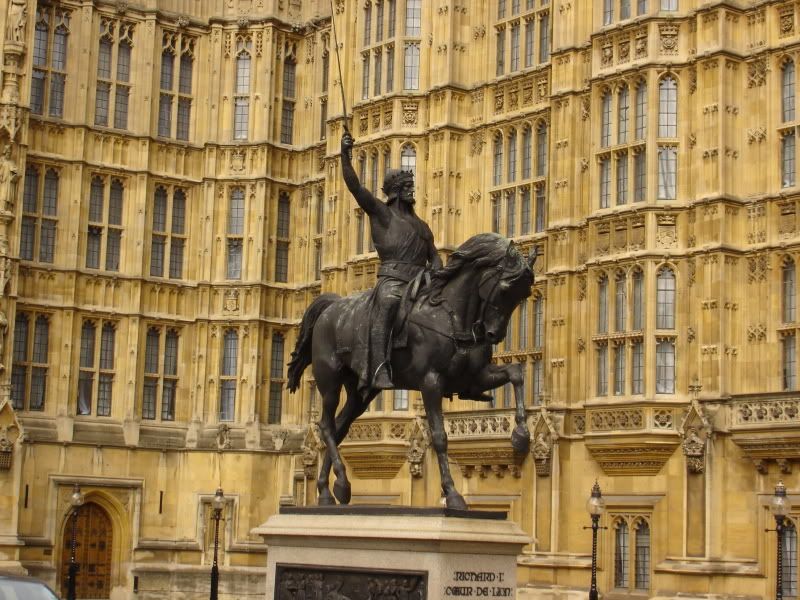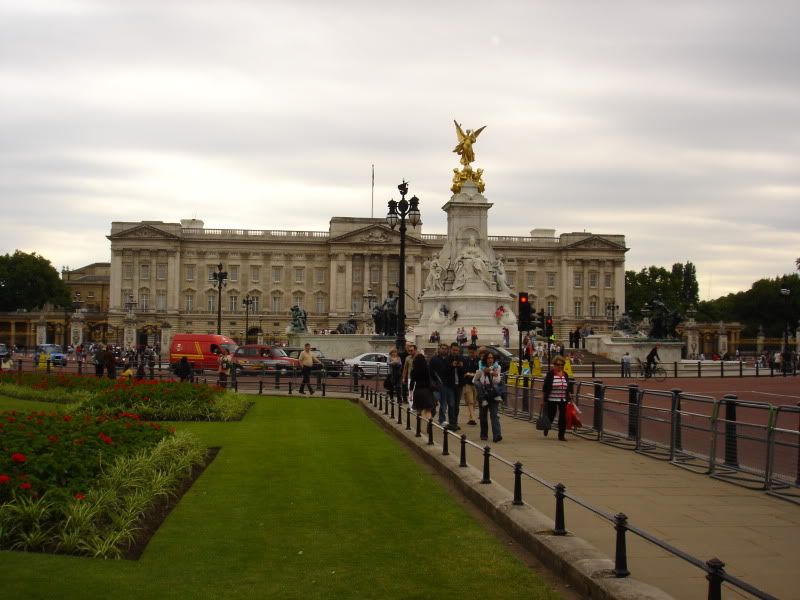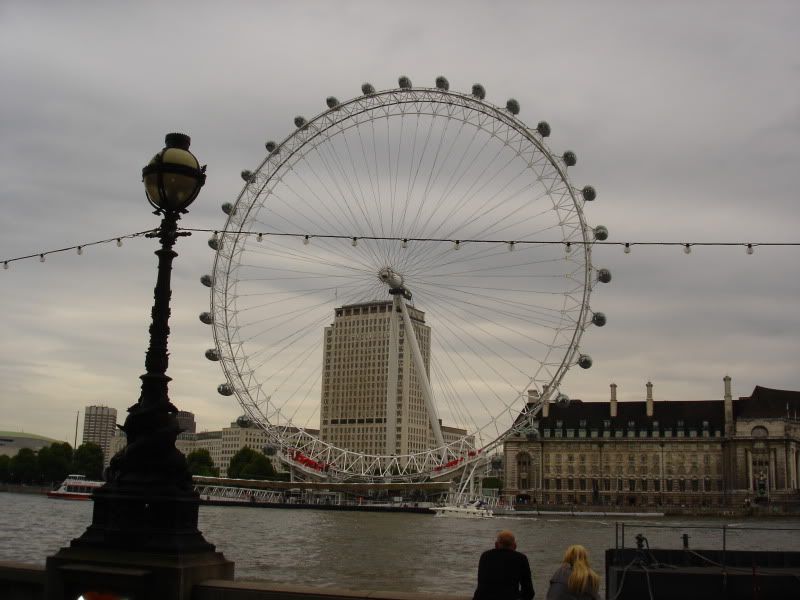 We went down past St James' palace, where the Guards were on duty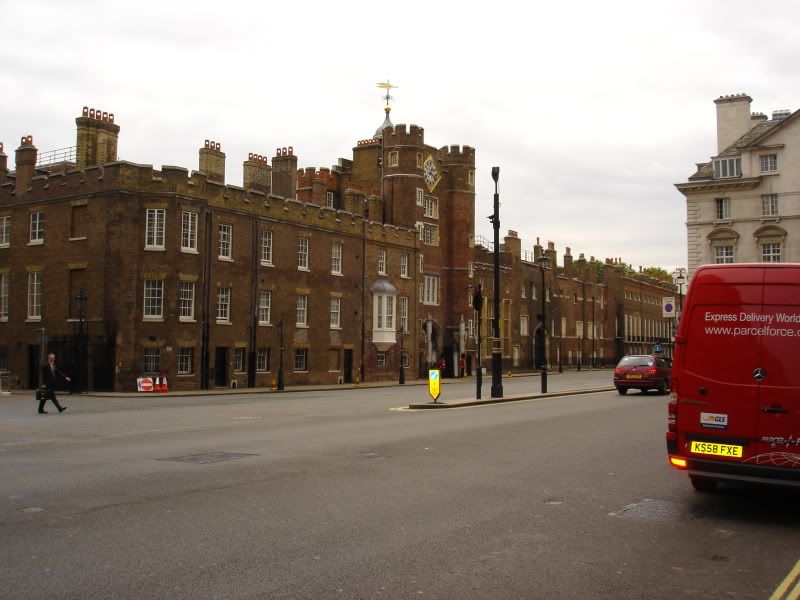 Some woman went up to the first guard and placed some sort of box in front of him and took a photo. The second guard indicated to her to give it to him and he posed with it (which I don't think he's actually supposed to do... aren't they supposed to not move?) She was a young attractive blonde, so that probably had something to do with his accommodating manner.

Trooping the Colour was taking place the next day, so they were preparing the parade ground. We stood and watched the workmen getting everything in place, and the seats being set up. It wasn't as peaceful as this the next day, I can tell you!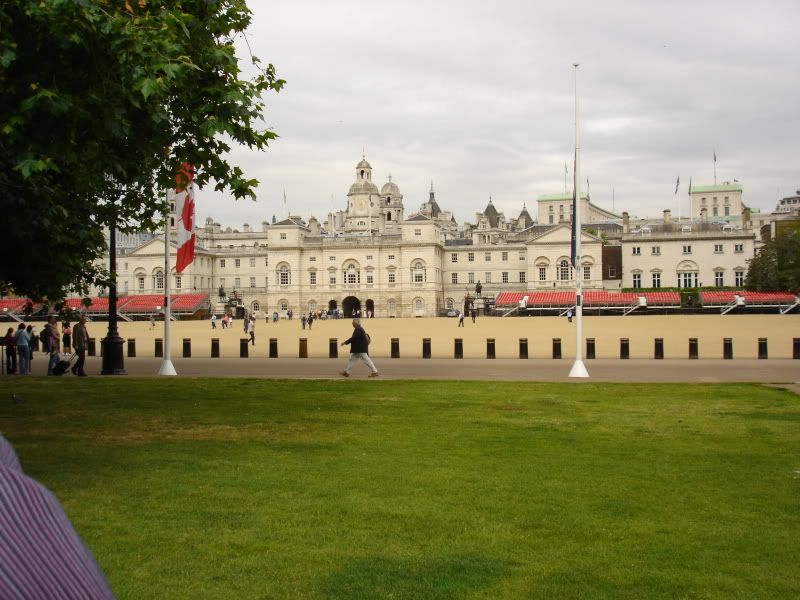 As we walked through St James' park we noticed a man feeding the squirrels. It was so adorable so we headed over for a closer look.

I haz a peanut! Om nom nom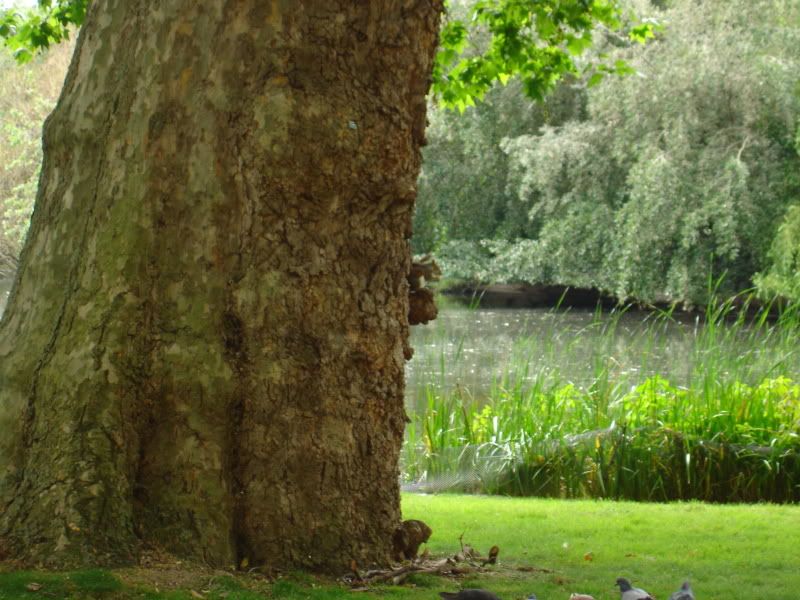 Unfortunately one of the squirrels mistook my finger for a nut and ran up the leg of my jeans and took a nibble, lol. The man feeding them gave us each a nut to feed them ourselves



The best bit is the arse shot at the end, no doubt!

We finished off the evening with a visit to the National Gallery, I've always been a lover of art so I was really looking forward to this, however I came away feeling slightly disappointed. Room after room of religious paintings featuring a cherubic blond haired blue eyed baby Jesus didn't really float my boat. If I'd had more time to explore I'm sure I'd found more, but time was tight. There were a few absolutely stunning paintings there though, and that made up for it a little.

SATURDAY

Semi-final day! We got up and had breakfast in a little greasy spoon, then headed down the mall to watch some of the Trooping the Colour. We saw a few of the bands marching past but didn't see the Queen. Not wanting to get caught up in the crowds we made our escape and headed to the tube and caught one to Baron's Court, which was only about five minutes walk away from the Queen's club. The amount of ticket touts we encountered on that short walk was unbelievable! We were there very early so the crowds hadn't really started to gather yet, and we got through security and ticketing relatively easily.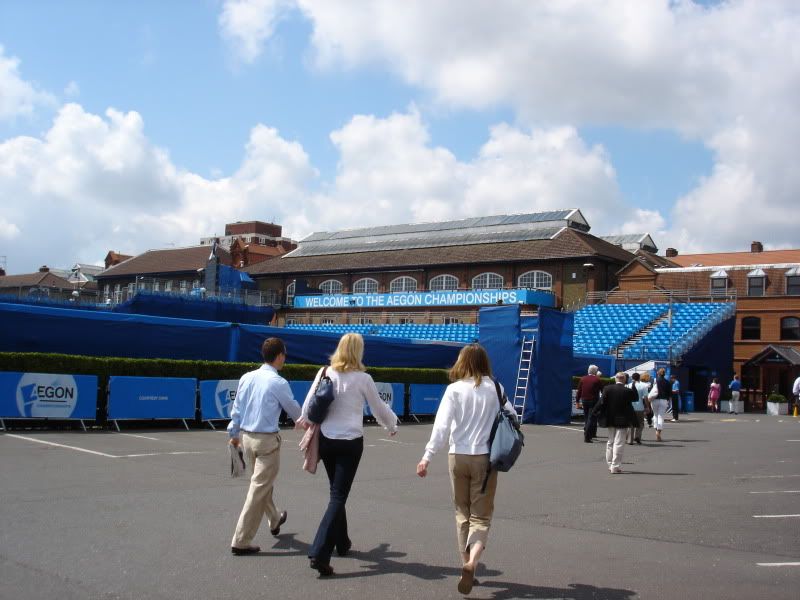 The practice courts were all curtained off to shield them from onlookers, but this is me we're talking about so OF COURSE I had to take a peek. Saw Ferrero warming up. Apparently Andy was on the next court over but couldn't see him from there.

Our seats were pretty good, I was right on the baseline and at a nice height to get a good view of the entire court. As we were so early we sat and watched the groundsmen prepare the court, and as I'm a total nerd at heart I really enjoyed that bit *blushes* We also took the chance to take some photos as there was no one else near us at that point! We also watched Sue Barker filming a piece to camera in the seats opposite us. Resisted the urge to throw stuff at her.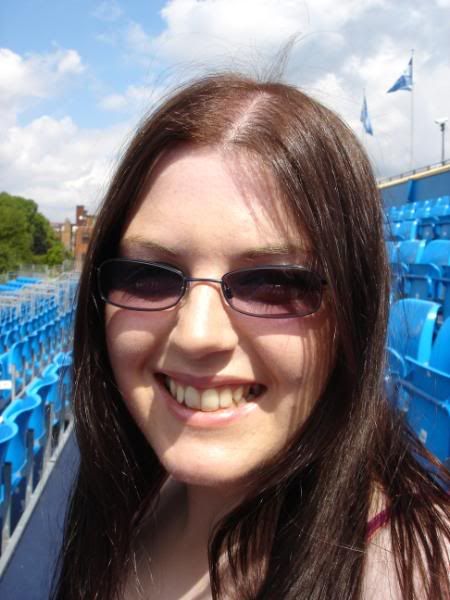 Finally the matches got underway, first off it was Murray v Ferrero, which was very one-sided in the first set but once Ferrero settled in the second it made a bit more of a match of it. Watching tennis live is so different from seeing it on screen, you really get an understanding of the power and the shot making, and how they move around the court, and the sound of the ball on the racquet gave me goosebumps.

Coin toss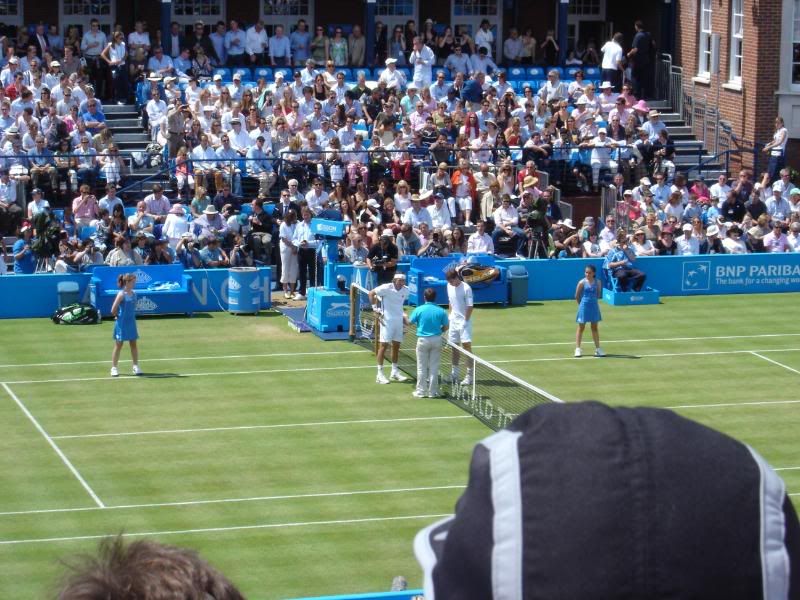 Murray warms up
As does Ferrero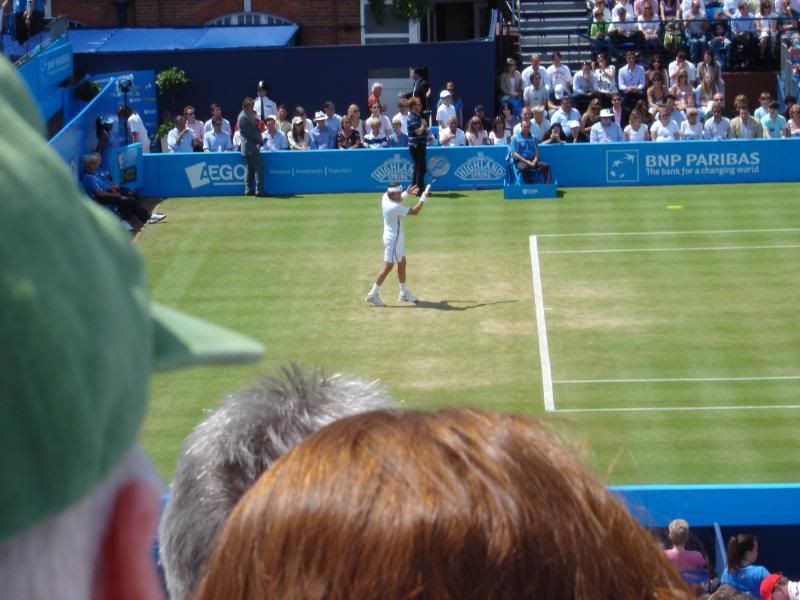 In the end it was a comfortable win for Andy.

Second semi was Roddick/Blake. I really like both these players so I was pretty neutral going into this one.

Coin toss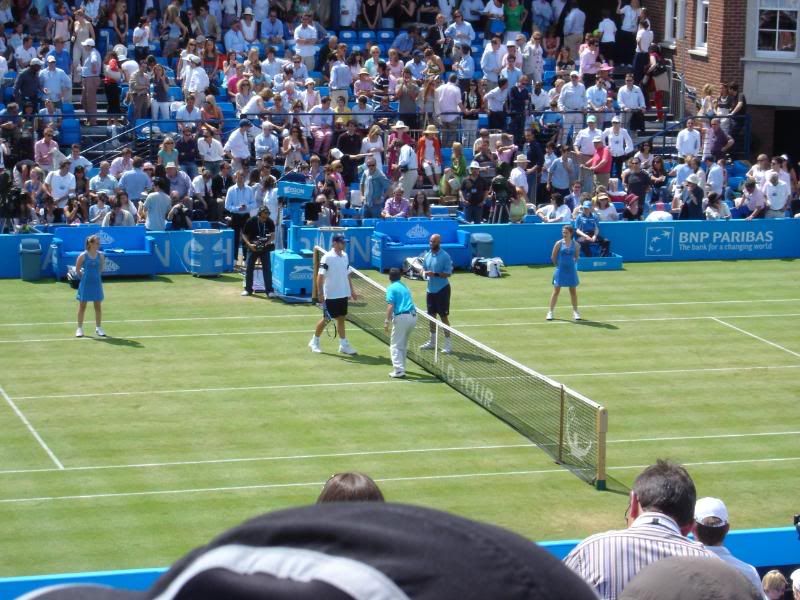 Roddick and Blake warm up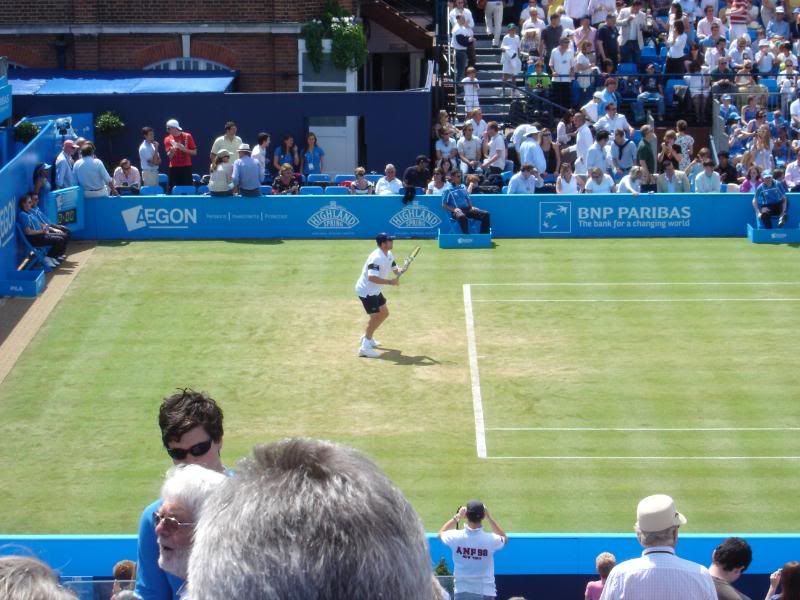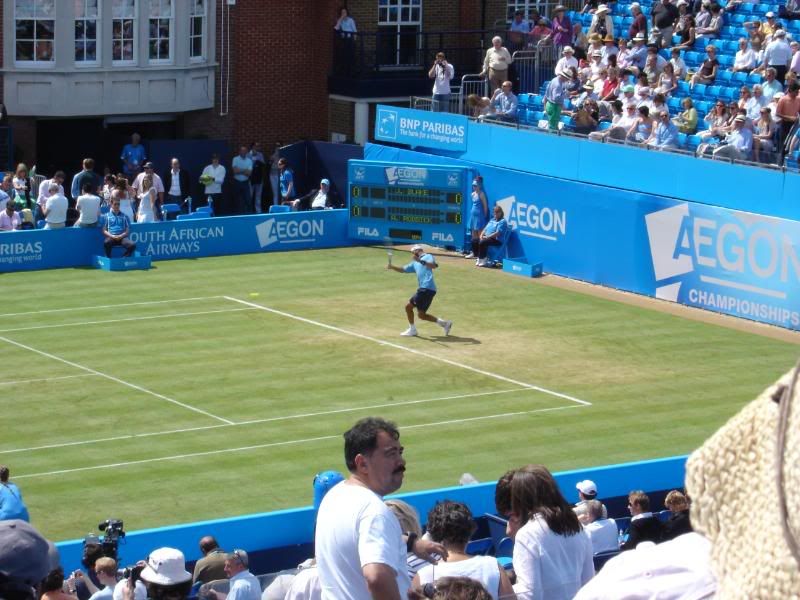 Sadly Roddick injured his ankle early in the first set and at 4/4 was forced to retire. We stayed and watched a bit of the first doubles semi before leaving as we were both starving and exhausted as neither of us had slept well the night before (I woke at 4am and couldn't get back to sleep! Argh!)

I really loved my first experience of live tennis, but I was shocked and stunned to discover three things about the crowd that come to see matches:

They don't seem to understand the rule 'no flash photography'

They don't turn off their mobile phones. Seriously, the guy behind me was chatting and texting the whole time and I heard loads of beeps and rings around the court. Ridiculous.

They don't seem to have ANY concept of SHUTTING THE EFF UP. Why pay all that money to come and watch a match only to spend the entire time facing your friend, talking to them?

SUNDAY

Finals day! As the final started an hour later we spent the morning at the imperial war museum before catching the tube back to Baron's Court. The touts were out in force again, but no amount of money would have persuaded me to part with my ticket! The crowd was gathering so security took a little longer to get through (and the bag check was much more thorough) but we got in, took our seats, which were a little more behind the baseline this time but still a great view, and waited for the magic to happen.

Directly below us, Sue Barker, Pat Cash and Andrew Castle were doing their live intoductions as the match went on air

Oooh, Pat Cash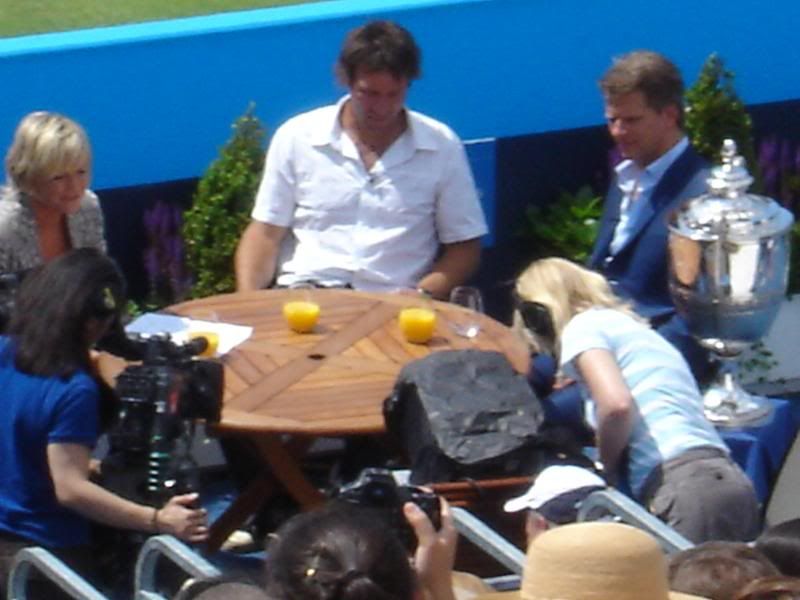 Pre-match photo opportunities abound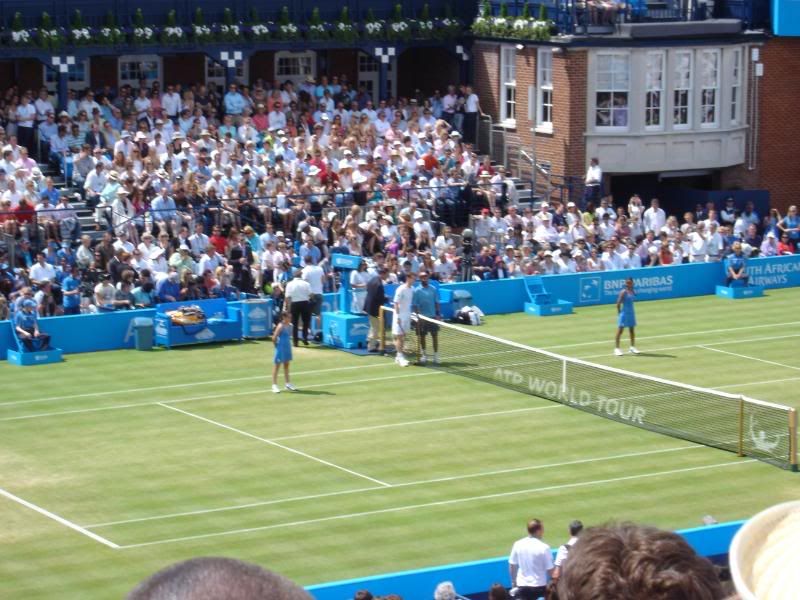 Blake's bringing sexy back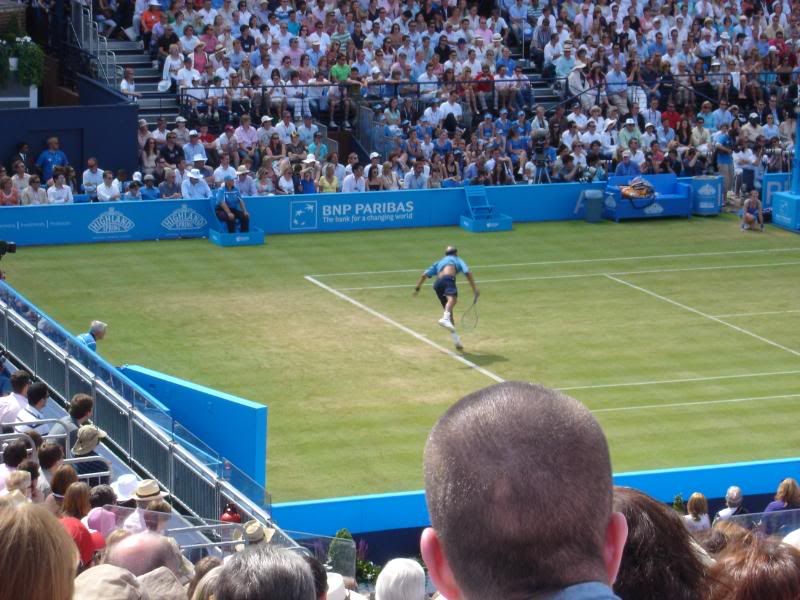 Murray is... not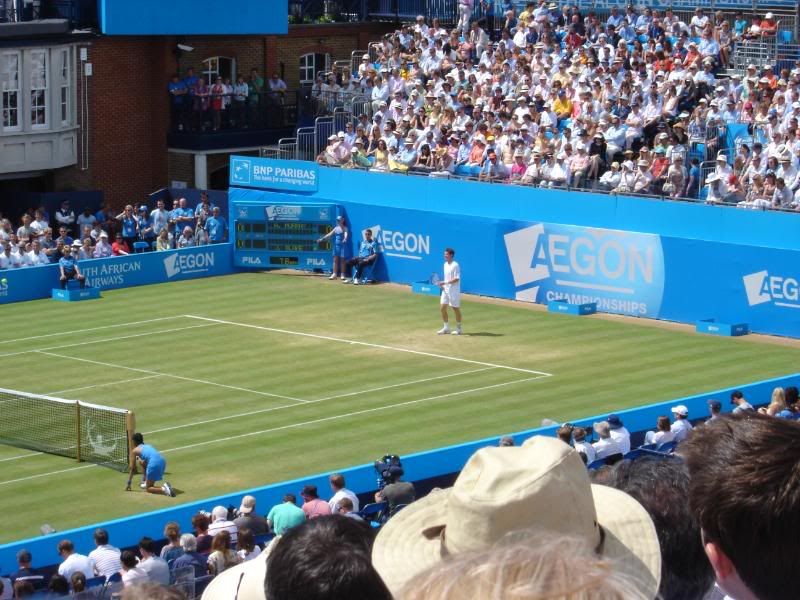 Blake proved a harder opponent than Ferrero, and there were definitely several moments in the match where I would have classed him as the better player, but Murray always came back and found his focus again, making some absolutely beautiful shots. Soon he was serving for the Championship.

Serving it out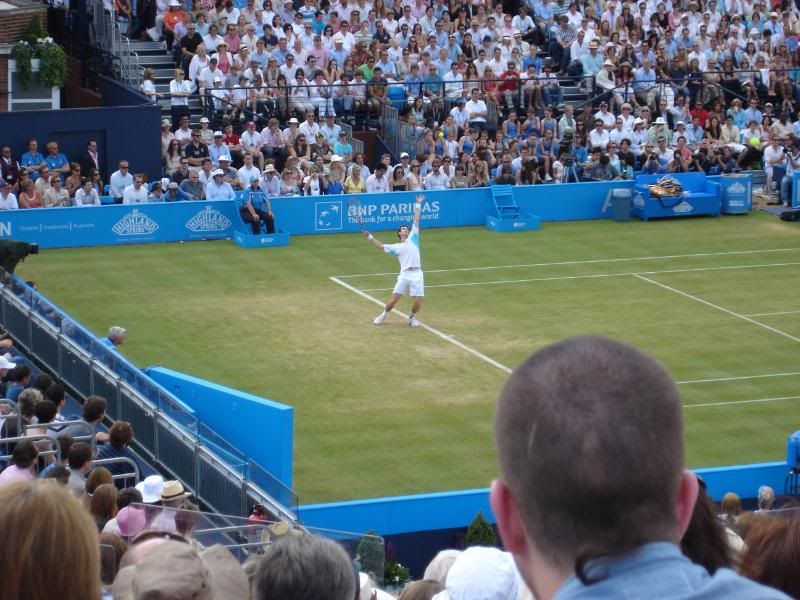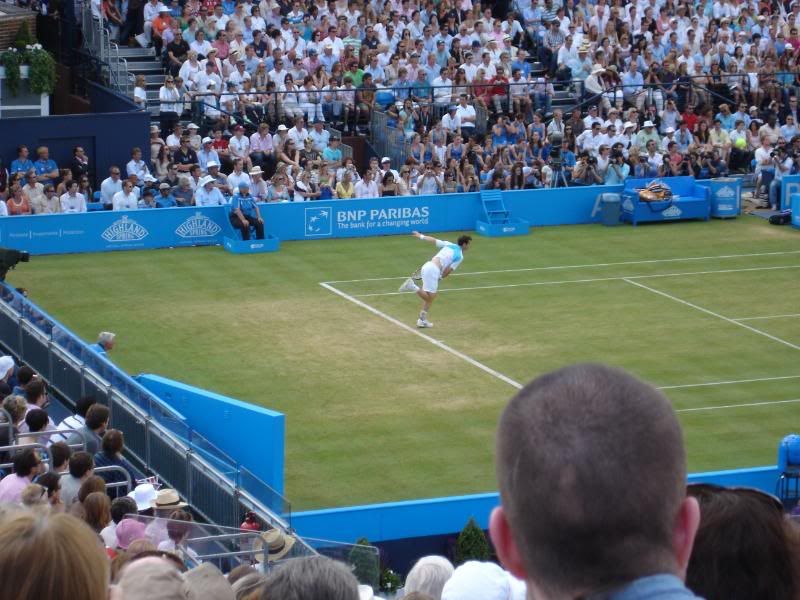 Championship point....
HE'S DONE IT!!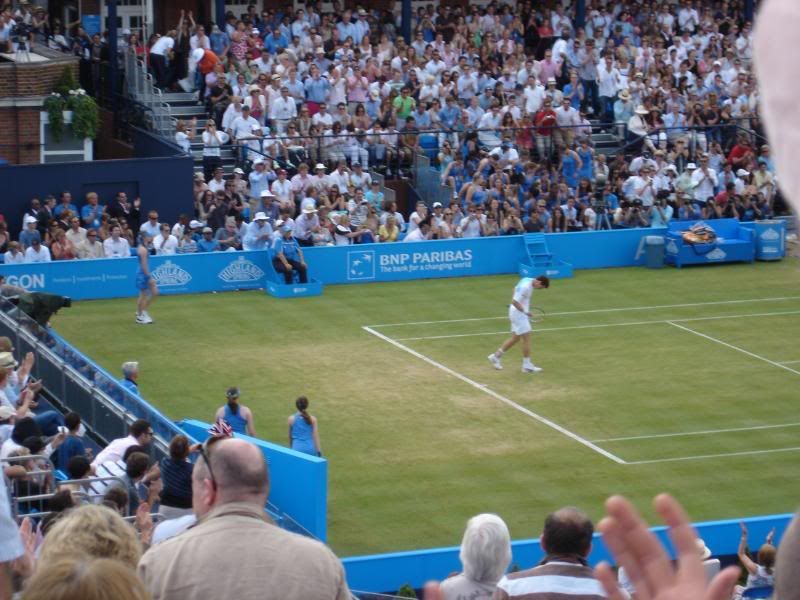 The first British man to win at Queen's since 1938!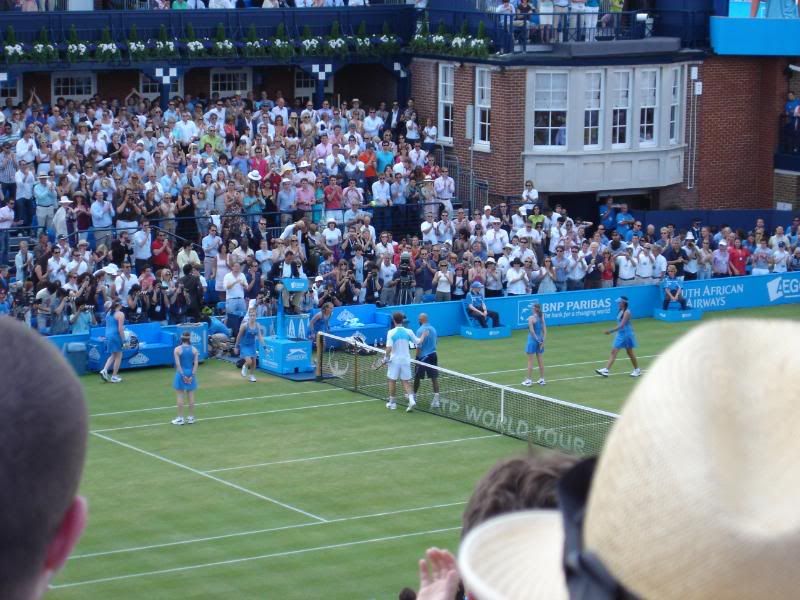 After that we stayed and watched the doubles which was fun, then we headed back to the hotel to get ready for the cinema, we went to see Star Trek at the IMAX, which was immense. I loved it. Our walk back to the hotel also took us past a certain Adelphi theatre where a certain Derren Brown was playing from the next night onwards... damn having to go home. The theatre looked great with all its posters. I didn't get a chance to stop and take a photo as we were being followed by an old drunk man at the time. Such is London.

Monday morning we took a little time around the shops again, went for an ice-cream in St James' park to say goodbye to our squirrel chums, then headed back to the airport to catch our plane home.

All in all, a pretty damn wonderful time. *Checks when the ballot for next year opens*